Welcome to heartswork

Summer 2019
Not sure whether to laugh cry or pray…………..
So it's come to this. Our country, and by our I mean everyone who lives here regardless of their origins, is about to have a Prime Minister chosen by 160,00 Tory party members. They are not renowned for their progressive views. Poverty, inequality, social care, education,global warming even the union of the United Kingdom -they're not interested-they just want to put two fingers up to the European Union whatever the cost. They don't seem to have a problem with serial adultery, outright lies, rank incompetence in office and blatant racial stereotyping as the candidate well ahead in the polls is the Old Etonian version of Donald Trump. Should he manage to sabotage his own chances of high office (again) the choice will be another right wing pro austerity candidate with a less than glittering ministerial career (ask the junior doctors). The competition between them is to see who can make the most promises that are either impossible and/or would leave the country bankrupt or without any public services. The United Kingdom is already an international laughing stock and neither of the candidates seems likely to persuade our friends or foes that we've sobered up. The Brexit vote has emboldened the most reactionary and violent people who take heart from political leaders who are either racist, mysogynist and homophobic themselves or find it politically expedient to make "jokes" or "satire" that appeal to their political base. These "jokes" are always at the expense of people who are poorer and less powerful than they are. Punching down is not attractive when comedians do it and downright irresponsible and wrong when politicians use it to pander to the tastes and prejudices of their followers.
Here in Cardiff we have been reminded by the Extinction Rebellion protesters who blocked the main street of the desperate urgency to make radical policy changes to avoid the environmental disasters that seem certain if we don't change course. We may not all like their methods but unless you are a climate change denier (either a fool or a cynic taking energy companies money) it is hard to argue with their logic. Our politicians are so wedded to the capitalist notions of endless economic growth with a small minority grabbing most of the proceeds that anyone who argues with that proposition is ignored,vilified or patronised with a little "greenwash" so that companies and states can show that they are doing something.
Whilst the protesters were making their case with rational argument the Tory faithful were being regaled with nonsense about how it will all workout when we turn our backs on our friends in Europe and make trade deals with Donald Trump. Our right wing politicians and their allies in the gutter press are happy enough to welcome Trump with open arms and ready to fawn and flatter for trade deals. Whatever happened to "sovereignty" and "independence"? To deliberately go against all the evidence that any kind of Brexit will be bad for the economy and a no deal Brexit will be disastrous for many years to come is appalling. To then sell off the National Health Service to U.S. insurance companies and open up our markets to cut price low quality food from U.S.farmers is downright immoral and all the evidence is that will the very least that Trump will demand.
Trump is plainly a narcissistic nationalist with a liking for dictators and an insatiable appetite for power and wealth. His friends and followers here may be pale imitations but the effects of their rhetoric and actions on minority groups can be clearly seen in crime reports and the increased acceptance of language and behaviour that I foolishly thought was on the way out. The Daily Mail calls judges "Enemies of the People" and Nigel Farage calls for a purge of civil servants who aren't pro-Brexit – and nobody is even surprised anymore because the level of political discourse in the UK and USA has descended to this level.
Watching European politicians in the European Parliament -the hated "Brussels bureaucrats", even if I don't like their politics I am struck by their articulacy (often in more than one language) and ability to make an argument without abusing their opponents. The behaviour of the Brexit Party in the E.U. parliament shows the difference between people engaged in problem solving and explanation and populist wreckers who insult anyone who tries to bother them with complexity or facts.
Remember I wrote that piece about fascism…..
As the chaotic mess they have conjured up unfolds and the full consequences of leaving the E.U. are felt you can bet your last devalued pound that the architects of Brexit and the far right extremists hanging on to their coattails will be sure to blame everyone except themselves. Self awareness and intellectual coherence are not the strong suits of right wing politicians, journalists and rabble rousers and we are already seeing that they are not constrained by any liberal notions like evidence or truth never mind equality or solidarity. They deny climate change and are racist,homophobic and misogynistic. They demand law and order but scream foul when the law applies to them. That our political parties appease them and pander to their prejudices is shameful and totally counterproductive-they will never be satisfied unless they get their own way. If you think that is too extreme think back to Theresa May's time as Home Secretary when she introduced the "hostile environment" at the Home Office and the terrible consequences for British citizens who had come here on the Empire Windrush. Look up the record of indefinite detentions and appalling ill treatment of people who have fled here to escape torture only to meet a callous system designed to humiliate them and run for private profit.
I hope our friends in Europe and beyond understand that many of us are deeply ashamed of the behaviour of our government and politicians and that our countries (largely England) have sunk so far in their behaviour and rhetoric with no sign of recognising economic reality or common decency.
Law and Order
We've probably all done things in our teens and twenties that seemed a good idea at the time but in retrospect look foolish and morally dubious. Like many of my generation I was lucky enough not to be jailed for taking illegal drugs and naive enough not to see the crime gangs behind the supply. However I didn't then write an article condemning middle class drug use or become a Justice minister. If as a Justice minister Mr Gove had insisted on extending the Stop and Search policies to wealthy white people as they leave their dinner parties then it would seem he had truly repented and recognised his hypocrisy. Those laws are still enforced on the black and the poor (whether they actually take drugs or not). One group becomes criminal losers and the other continue in their protected privileged lives. Organised crime bosses also enjoy their charmed lives whilst lower down the food chain the violence and squalor continues. The fact is that if you buy drugs you support exploitation and suffering.
What I do in my spare time!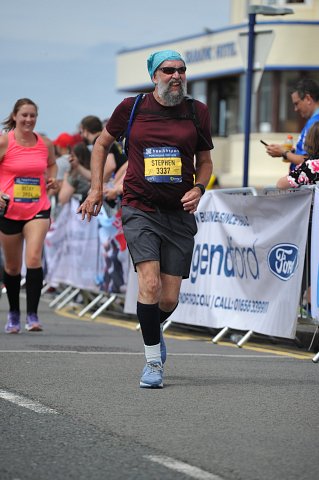 I will be 69 in August and I've never been keen on exercise other than in the garden and on my yoga mat. I loathed the torture of cross country running at school when it was compulsory and entirely uncoached. I went to an old-fashioned grammar school where unless you were already good at something you were effectively abandoned . There was a pronounced split between the pro-school sporty types and the more rebellious spirits (including me) who looked down on the "hearties" as they looked down on us. I understand that many schools now go out of their way to encourage children to find sports and games that suit them and I love the idea of the Daily Mile. As their website says " the Daily Mile is simple and free and gets children out of the classroom for fifteen minutes every day to run or jog, at their own pace, with their classmates, making them fitter, healthier, and more able to concentrate in the classroom."
After feeling overweight and unfit after Christmas 2017 I had already started walking daily and as I got fitter I began to feel envious of the runners going past me. I started to intersperse a few clumsy short jogs measuring progress by counting the lampposts. I'd never heard of the Couch to 5k programme but by following my own instincts reached the point of buying proper shoes, socks, shorts and tops and then a running watch so I could log my progress. Slowly I built up my endurance and began to realise that by running I was exercising far more than my body.
Once I could run 5k consistently I swallowed my self-consciousness and went to the Hastings Parkrun which is "there and back" along the seafront usually with a stiff breeze behind going out and straight in our faces coming back. I learnt there were people much older than me zipping along and plenty of people who had the courage to do the couch to 5k to lose weight and get fit.
We moved to Cardiff in February 2018 and I found that running helped me to escape from all the building works as well as getting to know our surroundings, finding new routes and connecting with the Cardiff Parkrun which regularly has 800 plus participants including top class athletes and recent couch to 5k graduates, all ages sizes and stages of fitness. In May I ran the Cardiff 5k Run for Victory through the suburb of Whitchurch on a lovely summer evening and had the experience of being encouraged by crowds of people clapping and cheering. Been there, done that and did get the running shirt!
Once I knew I could run 10k regularly I signed up for the February Winter Warmer 10k in Bute Park in the centre of the city (the scene for many running events) and enjoyed a cold sunny run and ran a new personal best. Since then I've had problems with my knees (largely solved by getting a new pair of shoes – I've worn out my previous pair) and had to take some time out but I know that by running at a slow pace and increasing distance and speed gradually I can recover and enjoy running by myself and the events I've signed up for. I'm confident now in completing 10k runs and for reasons I don't understand (but suspect that ego might be involved) I often pick routes which do include steep hills!
A question that is really hard to answer is "Do you enjoy it?"
I used to frustrate and amuse counselling students by saying the "the answer to your question is yes/no/maybe/sometimes – depending upon a wide range of variables" and that definitely applies to running.
Getting ready to run is scary and exciting not least because it is always different –I don't know how my body will respond, whether I'll be too hot, too cold or the wind will help or hinder. Some days I'll power up a hill and feel great, another day I'll struggle and often it is what is going on in my head rather than any objective difference in my body. Quite often for the first 2 or 3 kilometres I'm conducting an internal dialogue thinking of excuses to stop soon even though I know I won't, checking each limb and joint and realising anew that I can actually keep going knowing the small aches and pains will go as I carry on, allowing myself to relax, breathe and adjust my pace and posture. Some anonymous person described it well "Running is nothing more than a series of arguments between the part of your brain that wants to stop and the part that wants to keep going."
At some point I'll notice that I feel good and look at my watch to see how far I've come even though I know that there are so many variables and time and distance are only two of them. To put it more simply –just because I feel good at 7k today it doesn't mean that I won't be struggling at 7k tomorrow and maybe run through it to feel good later on. Right now I think it's about how long I can actually keep going rather than how fast and how far. As my distances improve I'm learning the joys of going slowly for longer taking everything in rather than attempting to run faster and losing touch with myself and my surroundings. I usually have a plan of where I'm going starting with familiar routes and then adding more distance and different directions depending on how I feel at the time. The weather has been very hot of late and that together with hay fever makes it a harder to run for too long but I know I have the capacity to run for well over two hours albeit at a slow pace. Part of what makes organised runs enjoyable is that they are runs for most of the participants not races. Having said that the other runners and the support of spectators do spur everyone on. The runners who want to race can do that and the rest of us can set whatever targets we like for ourselves whether improving our personal best times or simply getting round in one piece, or having fun with friends. I have an idea of what I can do and know that if I go out too fast or don't pay attention to my posture etc. I'll limit myself and I guess that by testing my limits physically and mentally I'm still growing!
Who I am …
My name is Stephen Richards. For the past 32 years I have been self employed as a counsellor, supervisor, consultant and trainer working with a wide variety of individuals, couples, groups and organisations.
I have had substantial training in Person-Centred Counselling and Transactional Analysis Psychotherapy and have had additional training and personal experience with Gestalt therapy, Bodywork and Psychosynthesis therapies.
I am a qualified supervisor and have developed and taught professional training courses in counselling, supervision, counselling skills and groupwork.
In recent years I have also been involved in the Advanced Diploma in Forensic Counselling and Psychotherapy course and the Advanced Diploma course in Counselling and Psychotherapy with Children and Families both at Wealden College.
I have run CPD and personal growth workshops for several years ranging from "Using DSM-IV the Diagnostic and Statistical Manual of the American Psychiatric Association" through to "Body Breath and Soul-Exploring Eastern Techniques of Personal Growth".
An increasing area of work for me is in public, private and voluntary sector organisations. I train and mentor managers to develop their thinking and skills and act as a consultant to directors and managers in coping with day-to-day problems and developing and implementing effective systems to prevent them arising.
Why "heartswork"?
For the past few years I've had a website www.working-in-relationship.co.uk and I've been pleased with the content, so I've kept most of it on this site.
My problem was that although "working in relationship" is the only brief description which covers the different kinds of work I do it doesn't trip off the tongue and if you're a hunt and peck typist like me it takes a while to type and there is plenty of opportunity for error.
The title "heartswork" is inspired by my remembering a conversation I had with a Transactional Analyst from Seattle, Elaine Childs-Gowell about 20 years ago. Elaine, who died in 2006 is most well known for her book "Good Grief Rituals" and unbeknownst to me at the time was a powerful human rights activist and had a Ph.D for her studies of Shamanism. She said to me,very simply, "You have found your heart's work and that is the important thing."
Why the lotus logo?
In the various strands of Buddhism and Hinduism the lotus is a frequently used symbol with a variety of meanings. For me the meaning is that a flower of great beauty and symmetry is born and flourishes in the muddiest of ponds.
Philosophy
I believe the value of my work lies largely in the quality of relationships I make with my clients and colleagues. My success is measured by their continuing trust in my ability and character and I take as evidence the changes in their thoughts, feelings and behaviour they make with my help.
In all the different kinds of work I do my aim is to bring out the best in people which can sometimes mean helping them to understand and change some aspects of themselves which they may find unacceptable or to manage painful realities.
I believe firmly in personal responsibility, mine and my client's, rather than external regulation and I am therefore accountable to my clients, colleagues and my conscience to behave with integrity.
I have professional supervision to enable me to be supported and challenged in my continuing growth and development. In addition I have substantial personal experience of therapy beginning in 1984 with 6 years in group therapy.
Like many of my colleagues I have serious concerns about people helping others without an in-depth examination of their own motives and the humility to seek help with their own problems. Given a choice between the practitioner who recognises he is a fallible human being who sometimes makes mistakes and sometimes needs help and the kind who never makes mistakes and never needs help – I strongly recommend the former kind!
Old-fashioned as it may be I still believe that freedom, equality and cooperation are the best conditions for healthy individuals and a healthy society.
Finding the right person
Probably the best way to pick a counsellor or psychotherapist, trainer or consultant is by word of mouth.
If people you trust say that someone is a good practitioner, go to see them (or if you want organisational work ask them to come and see you) and decide for yourself if they seem the kind of person you want to talk to, ask about their professional training and experience and see if they are open and direct in reply to your questions.
The most important thing is that they are responsive and pay good attention to you and that they make clear contracts about payment, the limits to confidentiality etc. (Please note that total confidentiality is not morally or legally sustainable).
If they are shifty, flaky, evasive, pompous, scared, scary or you simply don't like or trust them, go elsewhere however elevated their qualifications or reputation.
If you are not in my vicinity or need a specialist service call me anyway and I will refer to someone I know whose work I trust.* I have extensive contacts in East Sussex, Kent and West Sussex and some further afield.
*Please note this is about getting the right service for you. I receive no payment for referrals.
Stephen Richards
Director
www.heartswork.co.uk